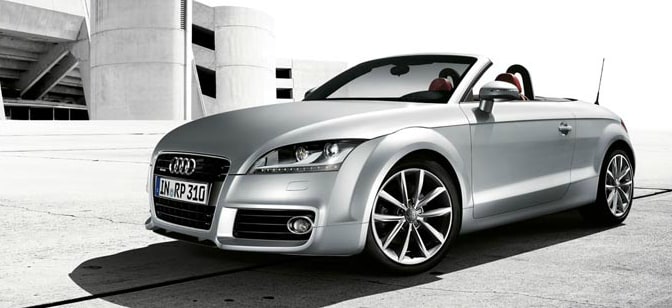 2013 TT Roaster at Fletcher Jones Audi in Chicago

The year-round summer roadster
While most convertibles remain narrowly focused on providing driving pleasure during a single season, the Audi TT Roadster combines its agile handling and spunky turbocharged performance with fuel efficiency, a spacious trunk, and the only all-wheel drive system in its segment, making it one roadster that's ready to thrill day in and day out.
Fast yet forgiving
With its turbo engine and lightweight chassis, the Audi TT Roadster has been noted for being a strong performer. Equally notable is the accessibility of that performance. Using the latest version of the Audi S tronic® dual-clutch transmission it pioneered, the TT Roadster combines the power advantages of a manual with the ease of an automatic, effortlessly keeping you in the heart of the engine's powerband. The sport suspension, 18-inch performance tires, and Audi quattro® all-wheel drive work in concert to deliver superb traction, letting you carve up twisty roads with enthusiasm. As a bonus, the available Audi magnetic ride system lets you tailor the attitude of the TT Roadster to your heart's content.
Beautiful form and bountiful function
With an updated version of the shape it made famous, the Audi TT Roadster remains a design icon. In this case, form and function go hand-in-hand, largely thanks to an elegantly simple roof that folds down in just twelve seconds. Additional highlights include Audi xenon plus headlights and LED daytime running lights, a speed-activated rear spoiler that deploys and retracts automatically (or manually), and LED turn signal repeaters in the side mirrors that help make merging easier for everyone.
Stunning inside as well as out
As is appropriate for a car with such a fetching exterior, the Audi TT Roadster has a cabin meant to impress. Rich, artfully styled materials cover every surface. Genuine aluminum trim on the doors, dashboard, shifter, and pedals make a striking contrast with their surroundings, and the flat-bottom steering wheel serves as a centerpiece of Audi style. The driver and passenger are treated to twelve-way power sport seats lined in a mix of leather and Alcantara®, and just behind them stand a pair of metal roll bars that add visual muscle. Thanks to its elegantly simple Z-fold roof, the TT also features 8.8 cubic feet of trunk space, dwarfing the top-down capacity found on all competing roadsters.
Always keeping its guard up
In the Audi TT Roadster, safety takes as high a priority as speed or style. Six airbags, including two at knee-level, help keep occupants protected from the front and sides, while Electronic Stability Control helps keep you on your intended path at all times. In the event of a rollover, two fixed metal roll bars behind the seats help shield occupants' heads, and in a collision, intelligent sensors automatically unlock the doors, switch on interior and hazard lights, and cut off fuel flow to the engine.
Source:
http://www.audiusa.com/us/brand/en/models/tt_roadster/explore.html