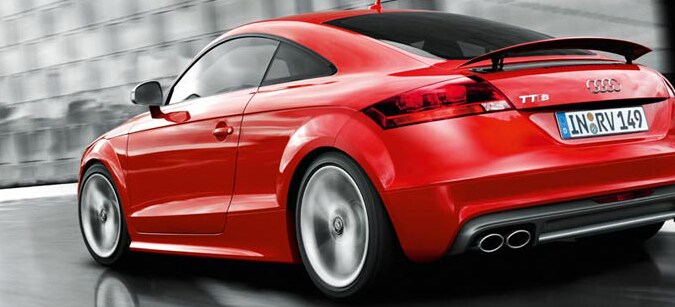 2013 Audi TTS Coupe | Fletcher Jones Audi in Chicago
The Audi TT in fast-forward
Though born from the same basic blueprints of the iconic Audi TT Coupe, the TTS has been tuned for extra excitement. Acceleration turns positively vigorous, thanks to a more forceful turbocharger equipped with 17.4 psi of boost. All-around driving dynamics benefit from upgraded wheels and brakes, and the inclusion of Audi magnetic ride sharpens the handling. The net effect is an even more dynamic version of an already capable sport coupe.
Ready for rambunctiousness
Driven at a normal pace, the Audi TTS Coupe rewards its driver with lithe handling, a fast-reacting dual-clutch automatic transmission, and the confident feel resulting from Audi quattro® all-wheel drive ? much like the standard TT. The difference is one of intensity. Armed with a high-pressure turbocharger squeezing 54 extra horsepower from the engine, the 265-horse TTS positively explodes with power when your right foot hits the floor, and with 258 lb. ft. of torque on call, the thrust can be summoned from nearly any speed.* The TTS also turns the handling up a notch with low-profile 19" performance tires that provide awe-inspiring traction, and Audi magnetic ride technology that allows further suspension stiffening for an even tauter feel.**
Looks the way it moves
It's only fitting that a sports coupe with such inspired performance would have a form to match. Still one of the most unique shapes in the automotive world, the Audi TTS Coupe also provides much to appreciate at the detail level, such as xenon plus headlights and LED daytime running lights that help you make a prominent entrance, and a stylish adaptive rear spoiler that automatically deploys and retracts based on vehicle speed. Thoughtful touches like LED turn indicator lights integrated into the side mirrors help make merging easier for everyone, and the TTS also features what is perhaps the most passionate palette of colors
on an Audi.
Beautifully practical
As the car known for raising the bar in cabin design, the Audi TTS Coupe features an interior filled with upscale materials and artful architecture. The driver and front passenger enjoy ten-way power sport seats with four-way power lumbar adjustment, and Silk Nappa leather covers every seat surface. The all-black dash and headliner reflect the sporting disposition of the TTS, while authentic aluminum trim on the dash, doors, console, and pedals provide a tasteful contrast. Even with all the aesthetic accomplishments, Audi designers found room for a surprising degree of practicality: the TTS boasts the most spacious trunk in its class and the only rear seat, making it one of the easiest sport coupes to live with on a daily basis.*
Prepared for the unfortunate
In the Audi TTS Coupe, safety takes as high a priority as speed or style. Six airbags, including two at knee-level, help keep occupants protected from the front and sides, while Electronic Stability Control helps keep you on your intended path at all times.* In the event of a collision, intelligent sensors automatically unlock the doors, switch on interior and hazard lights, and cut off fuel flow to the engine.**
Source:
http://www.audiusa.com/us/brand/en/models/tts_coupe/explore.html