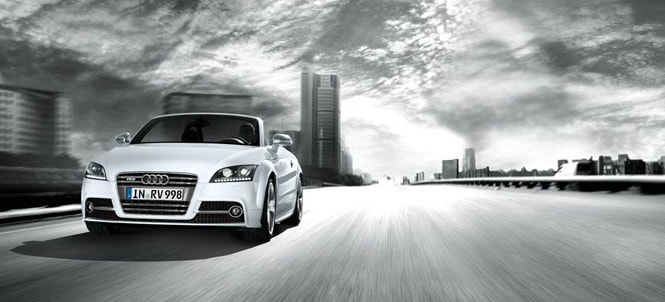 2013 Audi TTS Roadster at Fletcher Jones Audi in Chicago
A roadster that delivers a rush
Convertibles offer enjoyment by virtue of top-down driving alone, but the Audi TTS Roadster was built to excite on a deeper level. Its engine has been turbocharged to an extreme, resulting in 265 horsepower and forceful acceleration. Performance tires and an advanced suspension endow the TTS with high limits, and its athletic reflexes help make its every move feel fluid and natural.
Tops in thrills
The Audi TTS Roadster was designed to not only put the wind in your hair, but a grin on your face and the passion in your soul. The excitement begins with the engine, a 265-horsepower unit whose turbocharging results in a virtual explosion of acceleration when your right foot hits the floor. High-performance 19" tires and quick reflexes make the TTS a natural for carving up canyons, and the advantageous traction of quattro® all-wheel drive adds an extra degree of capability. The TTS even offers a Sport mode that quickens throttle response, gives the suspension and steering an even tauter feel, and endows the exhaust system with a more pronounced sound.
Raising the roof on style
Even as its unmistakable shape still stands as one of the most unique designs on the automotive landscape, the Audi TTS becomes even more rare and stunning in roadster form. The transformation to topless mode takes but twelve seconds, and the body of the TTS is adorned with eye-catching touches like xenon plus headlights and LED daytime running lights. On the rear deck sits a stylish adaptive rear spoiler that automatically deploys and retracts based on vehicle speed, and can also be controlled on command.
A treat for two
Maintaining its reputation as a trendsetter in interior design, the Audi TTS Roadster features a cabin that's as creative as it is rich. Jet black sets a sporting mood, with genuine aluminum accents providing a tasteful contrast. A variety of artful shapes comprise the controls, and high-grade materials provide an upscale feel. Both the driver and passenger enjoy ten-way power sport seats Silk Nappa leather surfaces, and behind them sit twin metal roll bars that add visual muscle to the overall look. As a bonus, the TTS Roadster makes for an easy weekend getaway car with its 8.8 cubic foot trunk, the roomiest in its segment with the top down.
Keeping its guard up
In the Audi TTS Roadster, safety takes as high a priority as speed or style. Six airbags, including two at knee-level, help keep occupants protected from the front and sides, while Electronic Stability Control helps keep you on your intended path at all times. In the event of a rollover, two fixed metal roll bars behind the seats help shield occupants' heads, and in a collision, intelligent sensors automatically unlock the doors, switch on interior and hazard lights, and cut off fuel flow to the engine.
Source:
http://www.audiusa.com/us/brand/en/models/tts_roadster/explore.html