About Fletcher Jones Audi - Your Chicago New Audi and Used Car Dealer


At Fletcher Jones Audi, we offer
new Audi cars in Chicago
, along with
used cars, trucks and SUVs
by top manufacturers. Our sales staff will help you find that new or used luxury car you have been searching for in Chicago. Whether you are looking for the new Audi A4, A6, A8, Q5, R8, or Q7, Fletcher Jones Audi will help you into the new car of your dreams.
For years, our financial staff at Fletcher Jones Audi has offered expert advice for those seeking a great Audi car loan or lease. Our service doesn't stop there. Chicago customers can come in and take advantage of our knowledgeable Audi car repair technicians and a fully-stocked inventory of Audi car parts.


You can reach Fletcher Jones Audi any time by filling out our contact form, by calling us or simply visiting our Chicago Audi dealership at 1111 North Clark St.


---
The Fletcher Jones Story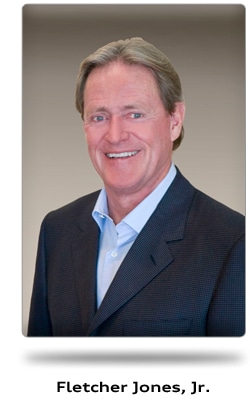 Fletcher "Ted" Jones presides over one of the most successful luxury automobile dealer groups in the United States. Ted has been credited with pioneering a revolutionary approach in which "guests" not "customers" are treated with the same level of service you would expect from a five-star hotel. The son of an industry legend, Fletcher Jones Senior, Ted meticulously manages an automotive retail empire that spans four states and twenty dealerships with the flagship operation, known simply as Fletcher Jones Motorcars, in Newport Beach, California.

While he has set new standards for excellence in the industry, his winning formula can be traced back to a family legacy that dates back more than 50 years to the post-World War II landscape of Southern California. It all started in 1946, when Fletcher Jones Senior met a man on a golf course who would forever change his destiny. Impressed by how successful the man had become by selling cars, the USC student decided to switch gears from being a law student to becoming an entrepreneur in the burgeoning automotive retail industry. After scraping together $1,200 -- a veritable fortune in those days -- Jones Sr. opened a modest used car lot in downtown Los Angeles and sold his first vehicle for $70. He went on to open his first new car dealership and earned his first taste of success by selling Chrysler and Plymouth vehicles.

To spread the word quickly, Jones Senior tried using TV and newspaper advertising, featuring himself as the spokesperson, extolling the benefits of buying a car from his dealerships. The personal approach turned out to be incredibly successful and created a formula that is still effective even today.

Over the next 15 years, Jones Sr. expanded his operations to include Chevrolet and GM-brand cars and opened an array of new dealerships located throughout Southern California, Phoenix and Las Vegas. By opening in markets that were experiencing unprecedented growth, he quickly earned a reputation as a "rising star" in the auto retail industry.

It was in the mid-1960s Jones Sr. gave his son, Fletcher, (who went by the name Ted to distinguish himself from his father) his first job in the business. Jones worked in a wide array of entry-level positions, ranging from sweeping the facility's floors and working in the parts departments before advancing into sales and management positions. With his father's guidance, Jones, opened his own dealership in the city of Whittier, where he sold Mazda vehicles. Within a few years, the decision to sell the fuel-efficient cars would prove fortuitous, as the oil-crisis loomed and Americans began exploring their options for more fuel-efficient vehicles.

Not one to put too much emphasis on one brand, Ted began opening additional dealerships that offered both domestic and import brands, and soon operated a stable of eight locations from Southern California to Las Vegas. He ran them jointly with his father until 1994, who was then 76 years old.

By the early 1990s, Ted Jones had a clear vision of the expansion direction he wanted his business venture to take, and in 1991, he purchased a bankrupt luxury auto dealership in the affluent community of Newport Beach setting his plan in motion to create one of the Nation's largest Mercedes-Benz center. After completing construction, and fine-tuning the operation to run like a Swiss watch, he has applied the same business principles to the additional dealerships that make up the Fletcher Jones Fine Family of Dealerships, today.

For Illinois, in the Chicago metropolitan area are Fletcher Jones Audi, Fletcher Jones Honda, Fletcher Jones Volkswagen and Mercedes-Benz of Chicago.In Hawaii these dealerships include: Mercedes-Benz of Honolulu, Mercedes-Benz of Maui, Jaguar of Honolulu, Land Rover of Honolulu, Porsche of Hawaii, Big Island Honda-Hilo, and Big Island Honda-Kona. In California, Fletcher Jones Motorcars, in Newport Beach, Fletcher Jones Motorcars of Fremont, Porsche of Fremont and our latest additions, Audi Beverly Hills and Mercedes-Benz of Ontario. In Nevada, Fletcher Jones Imports, Mercedes-Benz of Henderson, Fletcher Jones Toyota/Scion and Jones West Ford in Reno.

To carry on the tradition, Ted's son Fletcher Jones III began in high school learning the business from the service floor up. Now, many years later, with his father's guidance, he is working to bring his own personal insights and contributions to insure a long lasting legacy of integrity and innovation while continuing the family legacy in the automotive retail business.

Curious to learn more? Call Fletcher Jones Audi at (888) 259-7598. Or, visit us during our regular business hours at 1111 North Clark Street Chicago, IL 60610