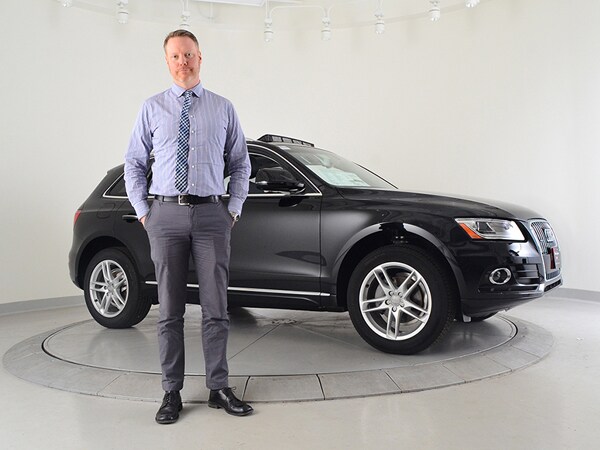 Meet David Donnelly, your Fletcher Jones Audi Service Consultant.
Working for Fletcher Jones Audi over the last 18 years, David is a wealth of knowledge, as a veteran Service Consultant. David knows the Audi brand very well but admits there is always something new to learn.
Knowing the Ins and Outs

Starting off his career here as an apprentice in the Audi Service Center, David learned the ins and out of all the cars. "I've worked in many different departments throughout the dealership and I'm happy that I have. Doing so has given me insight into what other positions entail, and that helps me to understand co-workers workloads. All of this knowledge helps me now when I'm delivering information to guests about their vehicles."
A Guests Point of View

After graduating from apprenticeship and becoming a Master Technician, David worked a Sales Consultant. Interacting with guests and learning about what it is they want and why has aided his success in his current role as a Service Consultant. "Learning about guests needs and talking with them daily about something as important as buying a car has really helped me understand their point of view. I don't just see things from the technicians point of view anymore and am able to anticipate guests concerns and convey information in a more comprehensive manner."
The New Audi Expansion

David has been with the company long enough to see it grow. He has watched the dealership go through a lot of changes. His favorite though, are the recently renovated facilities. "I love my job, and I especially love the new expansion that our Audi dealership went through. Both our Sales and Service Departments were completely redone and with the the new facilities we received state-of-the-art equipment that outshine other dealerships and allow us to do our jobs to the best of our abilities."

From Cars to Bikes

Outside of work David's hobbies extend to a different type of transportation. "I am apart of a cycling team called SpiderMonkey Cycling. I love it! I get to go out and bike every weekend- sometimes that's racing and other times it's just going for a long bike ride. Either way, I get to see the sights and push myself harder and harder which helps me professionally as well as personally."
Are you ready to push yourself professionally? Apply to join our Fletcher Jones team today!