Here at Fletcher Jones Audi we strive to be nothing but the best. That doesn't stop at the quality of service and care you receive, but of our employees as well! This week we had an opportunity to talk to Mandi Mancilla and her experience as an Audi Brand Specialist at Fletcher Jones Audi.
See why she loves what she does below!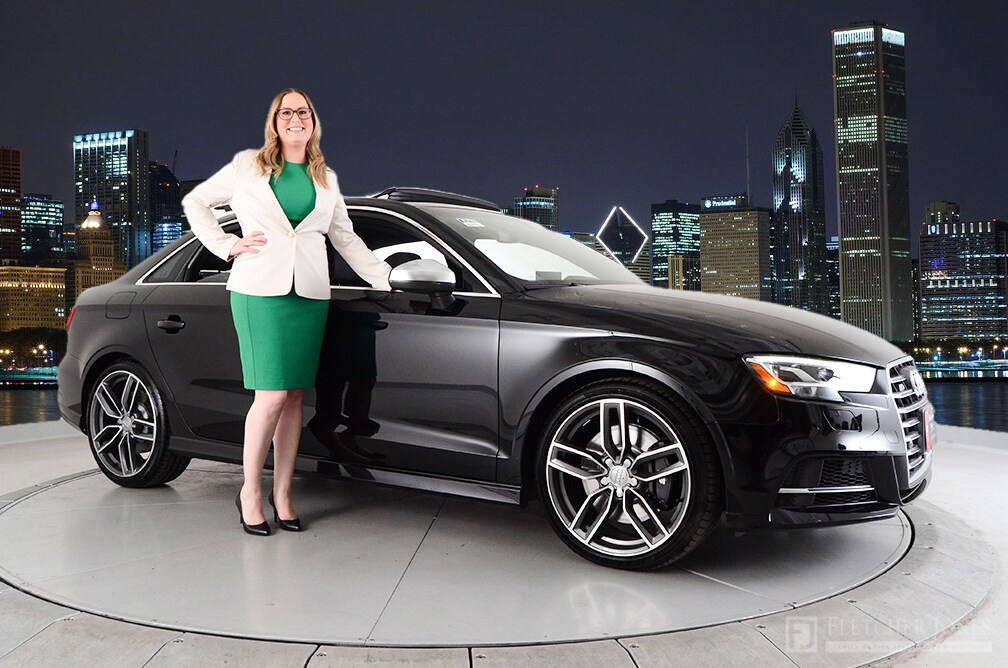 Mandi standing next to a 2017 Audi S3 Sedan
Fletcher Jones Audi: What is your current job title and how long have you held this position?
Mandi Mancilla: I'm currently an Audi Brand Specialist and have been since October of 2016!
FJA: How long have you been in this industry and what was your career path leading to your current title as a Audi Brand Specialist?
MM: I started back in late 2009 at Fletcher Jones Volkswagen as an Internet Sales Director through 2011. Eventually, I moved over to Fletcher Jones Audi as an Internet Sales Director from September 2011 through 2012. From there I was promoted as an Audi Team Leader from October 2012 through 2014, and now am an Audi Brand Specialist since last October.
FJA: What's your favorite part about working for the Fletcher Jones branded family?
MM: Working with colleagues and clients that are just as passionate about the brand as I am!
FJA: What is your favorite vehicle currently?
MM: It's got to be the Audi S5 Sportsback!
FJA: What's your favorite part about Chicago?
MM: I'd have to say the summers, the food, and also the lake.
FJA: Any favorite restaurants in the local surrounding area?
MM: There's too many to choose from – Gather, Bongo Room, Kuma's Corner and Twisted Spoke are just the few at the top of my head.
FJA: What do you like to do with your spare time?
MM: I love swimming, bonfires, enjoying summers, and just being out in general!
FJA: What keeps you motivated?
MM: I'm currently pregnant with my first child now and due in two months. That should most definitely change some things and keeps me going!
So what are you waiting for, come on down and say "Hi" to Mandi or any of our friendly Fletcher Jones Audi specialists and experience the Fletcher Jones difference!
Check out our awesome NEW Audi vehicle specials HERE!
Interested in joining our winning team? Apply here!