Your Fletcher Jones Audi team is set in place to support our guests and our Chicago community. We have begun building a list of Chicago restaurants serving our families during these challenging times. Take a look, check back for updates, and share with us the Chicago restaurants you are ordering from.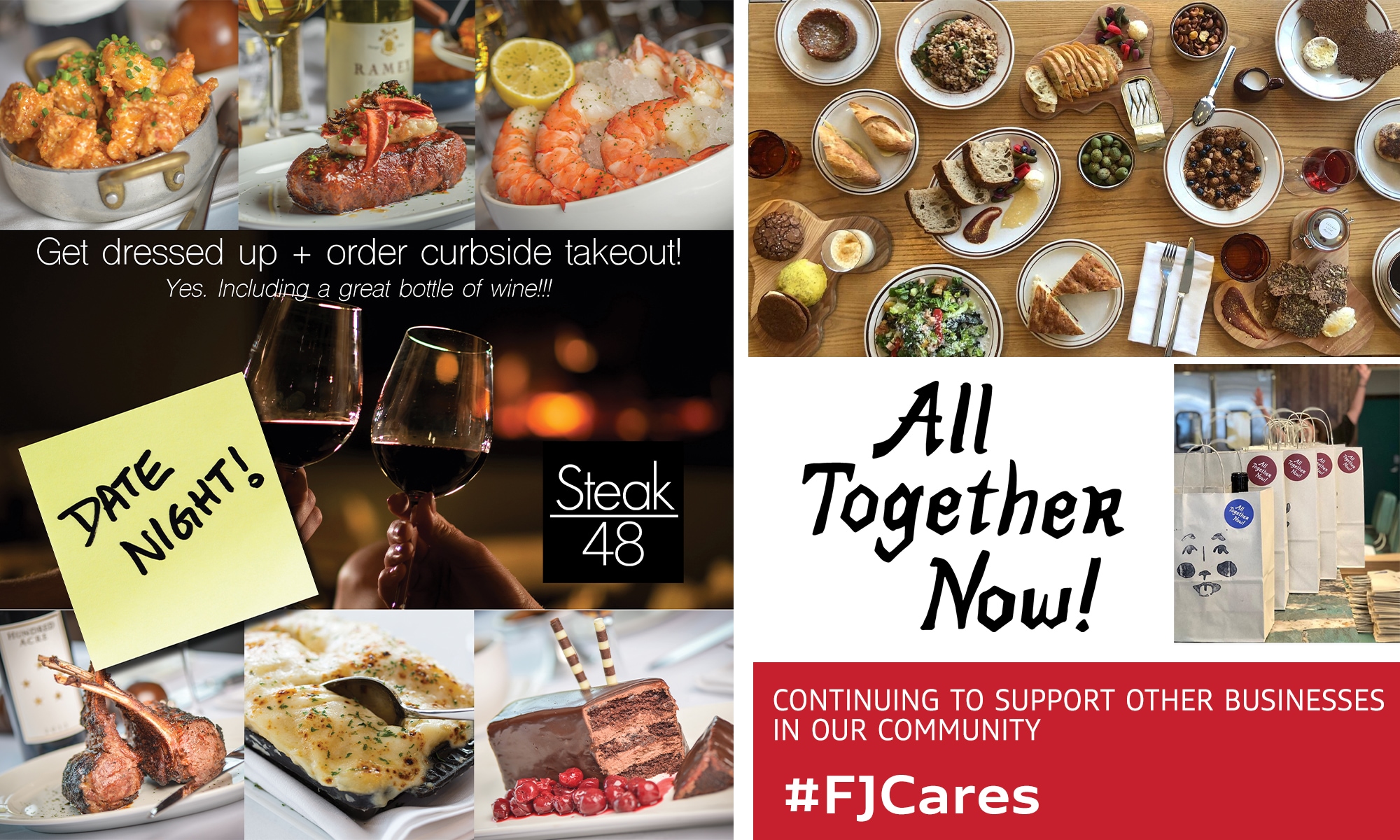 All Together Now
2119 W Chicago Ave
Chicago, IL 60622
Phone: (773) 661-1599
All Together Now is ready to host your nightly family dinner! They are cooking up a whole meal every night for you if ordered by 12:00 PM the day of. Then, you choose to have dinner delivered (Castillo Delivery) or picked up curbside. You can also call their Wine + Cheese Hotline to receive personalized recommendations on what wine and cheese to pick up that night.
Instagram: @__all_together_now__
615 N Wabash Ave
Chicago, IL 60611
Phone: (312) 266-4848
Let's make it date night! With their extensive menu—from appetizers to desserts—Steak 48 helps you create the perfect date night at home. Snap a picture of your date and tag us on Instagram.
Instagram: @steak48
River Roast Chicago
315 N LaSalle St
Chicago, IL 60654
Phone: (312) 822-0100
Our routines may have changed, but our love for discovering local restaurants doesn't have to! River Roast Chicago is open for curbside pick up and delivery. The best part (besides for the amazing food, of course)? For every $50 spent, you'll receive a $25 gift card. For every $100 spent, you'll receive a $50 gift card.* Start your order now and share with us what made it into your order! P.S. Family meals available for pick up only.
*Complimentary gift card accepted on future carry out and in-restaurant dining only.
Instagram: @riverroastchi
Flat & Point
3524 W Fullerton Ave
Chicago, IL 60647
Phone: (773) 904-7152
It's time to explore the online store of Flat & Point! As a guest of their online store, you will have access to an abundance of options, like their provisions market and morning cafe! Our favorite section to shop? The "Take & Bake" category where one can order cinnamon rolls for the morning and mac & cheese for night. Open Wednesday - Sunday from 10:00 AM to 7:00 PM for curbside pickup. Closed every Monday & Tuesday. Let us know what you ordered by tagging us @fjaudi!
Instagram: @flatandpoint
Yolk
Location: Find your nearest location.
Phone: Call your preferred location.
You know what they say? The best way to start your day is to have a fantastic breakfast! With all the options Yolk offers, you'll find the perfect meal to help fuel your day. Tag us in your breakfast photos @fjaudi.
Instagram: @eatyolk
The Smoke Daddy
1804 W Division St
Chicago, IL 60622
Phone: (773) 772-6656
With summer quickly approaching, we know you are craving BBQ more often than not. At Smoke Daddy, your taste buds are in for a treat with their ribs 'n' platter, sandwiches, salads, snacks and sides! It will be a party for your taste buds and your family. Don't forget to end your meal with a tasty dessert, like Granny R's Banana Puddin'! Share the party from a distance with us on Instagram @fjaudi.
Instagram: @smokedaddybbq
3rd Coast Cafe
1260 N Dearborn St
Chicago, IL 60610
Phone: (312) 649-0730
3rd Coast Cafe should be coasting into your home and onto the table for the next family breakfast, lunch or dinner. Just one look at the menu and you'll know everyone in the family will find the perfect item for them. Coconut Oatmeal? The classic 3rd Coast Pizza? Their ever-changing dinner specials? Your family is in for a treat! Let us know what you chose @fjaudi.
Instagram: @3rdcoastcafe
Stay Updated