Return Your Lease With Fletcher Jones Audi
We will pay you $200 for your lease return!*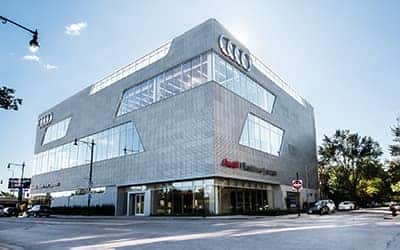 When you're signing the paperwork for your new vehicle lease, you're typically excited and ready to get out onto the Chicago roads to experience your new ride. That excitement can often mean that you may not be able to remember the exact details of the process for returning a leased car when the time has come.
Returning a leased car can be stressful if you've never done it before or have forgotten what the experience is like. Fortunately, our team of professionals is here to help with your lease return in Chicago and make the process as simple as possible. Discover how to start an Audi lease return today with Fletcher Jones Audi.
What You Need for a Lease Return
We offer a wide variety of lease-end options for you to take advantage of, making it easy for you to enjoy the lease-end experience that best fits your Elmwood Park lifestyle. However, gathering the necessary paperwork and having the right items when you bring your vehicle in to start the lease return in Chicago will ensure you can enjoy a smooth and hassle-free experience. Before making the short drive from Bucktown to our leasing center, here's what you'll want to bring:
Owner's manual
Maintenance records
All your vehicle's keys
Repair receipts
How To Return Your Lease
There are a few different ways you can begin the Audi lease return process for your vehicle. Whether you're looking at returning a leased car to upgrade to a new Audi for your Gold Coast travels or you simply want to go through the Audi lease return process and walk away, we can help. Generally, here's what the return process is like at our dealership:
You can give us a call at 312-635-7036 or complete our lease return form online from the comfort of your own Highland Park home.
Once we've received your information, you'll come in during a scheduled time for us to inspect your vehicle. We'll assess your vehicle's overall condition and take note of the mileage.
If there are any restrictions on your mileage or any concerns about your vehicle's condition, we'll work with you to go over the next steps.
Once the inspection has been completed, we'll help you complete the final paperwork and go over your lease-end options so you can be back on your way.
Start the Lease Return Process Today With Fletcher Jones Audi
If you're ready to start the process for a lease return in Chicago, give Audi Fletcher Jones a visit and we'll be happy to let you know about the next steps. You can also contact us online and we'll be happy to answer any questions you may have.
Schedule Your Lease Return Today!
Make an Inquiry
* Indicates a required field
*Eligible leases will receive an inspection report (By AFS), a completion of lease return receipt by Fletcher Jones Audi and $200 which will be sent by check in the mail within 7 business days. All Audi Financial and Mercedes-Benz Financial lease qualify. See dealer for more details. Lease return does not imply commitment to pay any remaining payments on existing lease term. This offer must be mentioned at time of inspection. Offer valid only at Fletcher Jones Audi. Certain exclusions may apply. Expires July 5th, 2023.